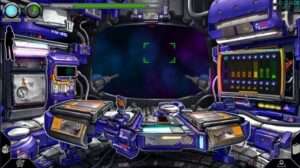 Welcome to this episode of the Space Game Junkie Podcast my friends! This week, Jim, Hunter, Spaz and I sit down with Ryan Hewer, Project Director at Little Red Dog Games, to discuss their currently Kickstarting space exploration and spaceship management game, Deep Sixed! While we start on a major E3 tangent — which is pretty funny overall, really — we eventually do talk a lot about the game, the company's history, their Kickstarter and much more. Ryan was a really funny guest, so there's a lot of laughter, which is awesome. At one point I just couldn't stop laughing, so it was great. I hope you enjoy listening as much as we enjoyed making it.
Podcast: Play in new window | Download (Duration: 1:26:24 — 36.2MB)
Subscribe: Apple Podcasts | Google Podcasts | Spotify | Amazon Music | Android | Stitcher | RSS | More
Next week on the show, we'll welcome the developer of the really fun spaceship captain sim, Icarus Starship Command Simulator! If you have any questions or comments, as always, you can drop them below, email us at hail@spacegamejunkie.com or hit us up on the forums.
Show Notes
Games Mentioned
Objects in Space
Keep Talking and Nobody Explodes
Rogue State
Space Alert
Weird Worlds
Red Shirt
Elite: Dangerous