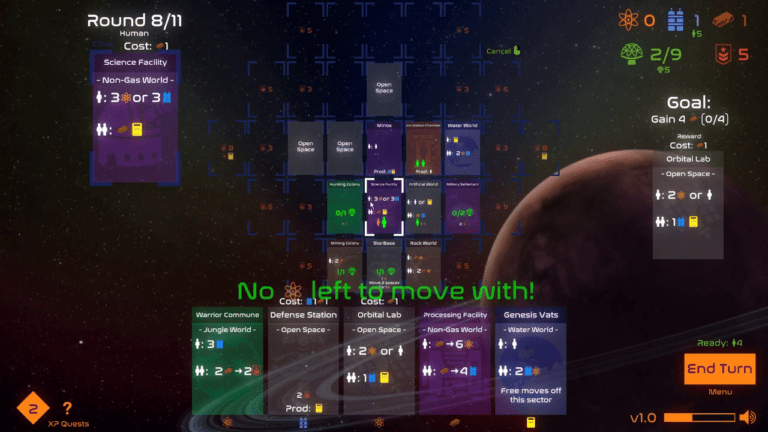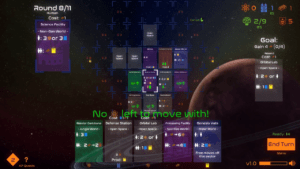 Hey friends, welcome to Monday! How are y'all doin'? I am SUPER EXHAUSTED. Seriously, I try not to talk about the wedding too much, if at all, because I don't wanna be "that guy" but OMG it's in two Saturdays, you guys. I'm just stressing about all the stuff that's left to do plus the general stress of this big THING coming up. We're keeping it simple, and I'm sure it'll be great, but GAH.
Anyway, enough of that, let's talk today's video. Since Andromeda Conquest was such a nightmare to play (which I complained about loudly on Twitter), I cut that series off early and had time to record video of some other games, including today's game, Solar Settlers.
This is my first game from BrainGoodGames, and I have to say I am super impressed. I'll be the first to admit that I'm far less interested in card and board games than video games — unless it's Solitaire of course — but this game is so elegantly designed and so fast-paced that it just works even for someone like me. It's just so quick and so fun to play that it's just really…just joyful, really. It has the right amount of exploration, management, agency, and tension that each round feels unique. The overall progression/RPG elements and unlockables are great as well. That, the leaderboards and the regular challenges give you plenty of reasons to return. Overall this is a really fantastic game I'll be playing for a long time. I have to say, there have been some amazing surprises this year, this game being one of them.
On Friday, besides Solar Settlers and Andromeda Conquest, I also made videos of Interstellar Space: Genesis and Space Tyrant, so those will filter out throughout the week. I also had a super, super busy weekend, but I was actually able to fit in a few hours of Lord of the Rings Online sporadically over the entire weekend. It was exactly what I needed. I didn't even really do any combat. I spent the entire time helping some Hobbits put together a farmer's market, which involved milking cows, wetting pigs, gathering wheat and so on. I didn't even mind or find it boring or repetitive. It was just the kind of light engaging, yet still gamey fun I needed. As much as I love solving towns in LOGistICAL, right now I don't want to PLAN anything. I just wanna be told to do stuff and do that stuff, so I have a feeling LOTRO will take up the entirety of my non-blog gaming time until the thing in a couple of weekends.
Anyway, enough about me, let's talk news!
Now, in deals, since it's Monday, we have new Weeklong Deals on Steam. There weren't many, however:
Then, the Humble Store is having an Indie Mega Week which includes a couple of spacey deals. Finally, GOG is having a MASSIVE Interplay sale, in which all of their Interplay games are on sale because they'll be going up to Steam prices once the sale ends. This is the best time to get Freespace 2 at what might be its best price ever. Hint hint. ;)
That's it for today y'all! Have a good one!