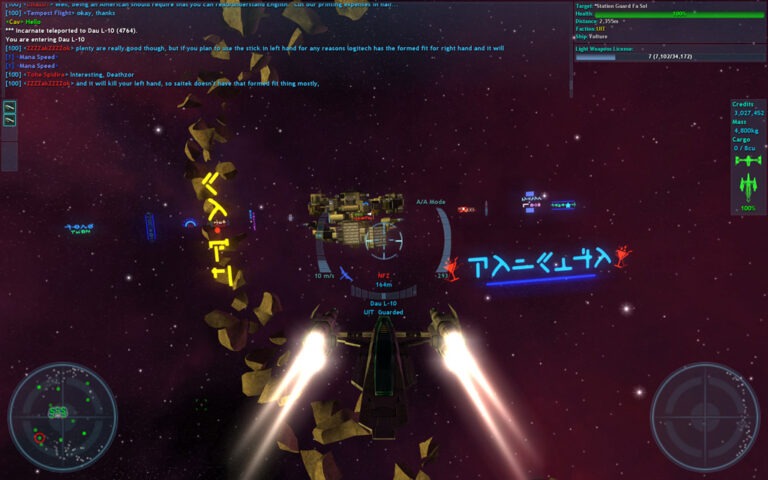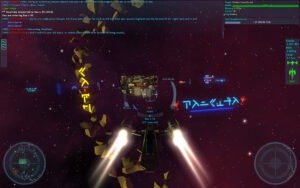 Hey friends, and welcome to Friday! It has been a helluva week my friends. I've been so busy with work I've barely had energy for gaming, seriously. First off, the only video from this past week was our sojourn into Borderlands 2, which was a ton of fun:
Besides that, I decided to, after a break, return to Vendetta Online for the first time in a while. I resubscribed and played a bunch the other night, and had fun. It's relaxing, and it feels more meaningful in a way Elite doesn't. I could play Jumpgate, sure, but I'm a bit burnt out on that as well, oddly. I guess VO still has a "new shine" on it, while the others are a bit…tired in my brain right now. I also spent some time with War Tech Fighters, which is surprisingly fun and challenging, and I'll be definitely covering it since it does have space stuff, which I didn't even realize! I also spent time with Stellar Tactics because it keeps getting updated, and I'm enjoying it, but I wanna get to the spaceship! ;) I also spent time with EVE Online and Brigador as well, both of which have been a ton of fun! Brigador is even better with the addition of horns. ;)
This weekend I won't have a ton of time to game, since we're having a movie day tomorrow, but I do hope to get some time in with Tooth and Tail, which I just got and cannot WAIT to play. I love RTS and procedural generation, so I've been excited about this one for MONTHS. I also hope to return to LOGistICAL and Lord of the Rings Online for some relaxing, podcast-listening gaming.
Now I'll tell y'all, the next week or so is gonna be GREAT for gaming, as Nicole is playing in a local production of The Nutcracker, so I am gonna have a TON of time on my hands. I'll likely record some stuff for the channel like Star Control: Origins and Star Traders: Frontiers along with getting more gaming in just for myself. Really looking forward to a lot of me time. I mean, I love Nicole so much, but man, me time is great. ;)
OMG so much news you guys. Let's do this.
Star Control: Origins began its fleet battle beta! Yay! Stardock also put up an anniversary article for SC2.
Polaris Sector: Lumens has dropped on Steam! Yay! Also dropping is Star Traders: Frontiers, Echo Nine and Lone Vessel!
Cosmoteer now has multiplayer y'all!
Jumpgate is having a series of events next weekend y'all, and the schedule has been posted.
Congrats to Nimbatus for reaching its Kickstarter goal!
Astrox Imperium needs help creating ads, and has a new video about the game!
Battlestar Galactica Deadlock has a dev diary about its upcoming Firepower update!
Space Impossible is getting missions according to this latest dev update! Yay missions!
Endless Space 2 is apparently getting a massive update entitled Galactic Statecraft which will include a ton of new stuff. Actually, after I wrote that, it came out, and it's MASSIVE. It also got several updates put out as DLC, such as Little Grin Man, Target Locked and Stellar Prisoner. They also have some dev diaries on their forums to check out! They're also having a free weekend on Steam, so go try it!
Stellar Tactics has a massive update along with a dev blog for y'all to check out. I need to play this thing.
Void Destroyer 2 has a new dev blog talking pirate attacks and scripted missions
Limit Theory has a lot of new progress to show off in its latest dev update.
Hellion has a massive dev update about its upcoming fixes and improvements.
Osiris: New Dawn got a lot of new toys in its massive Into the Fray update.
Astrox Imperium has a new devlog video for y'all to gawk at.
Helium Rain now has modular stations!
Discovery Freelancer's latest update reworks a ton of stuff, like battlecruisers and heavy fighters.
Stellaris has a big dev update on upcoming changes to war and peace. And another on ascension perks!
Concealed Intent should have some updates soon! Yay!
Battlestar Galactica Deadlock is coming to…ugh…CONSOLES, but I guess if you like those sorts of things, yay for you. ;)
Azulgar Star Commanders has a look at its new EVA combat.
Rodina now has procedural interiors!
The Spatials: Galactology has a nice big dev post on resource distribution.
Space Engineers got a big update that overhauls physics, among other things.
Infinity: Battlescape has some alpha videos for y'all to gawk at.
Ancient Frontier is getting some new free DLC with new crewmembers and more.
Galactineers has new tutorials and a lot more in its latest big update.
Galactic Command Echo Squad SE is apparently getting its first update in a billion years.
Predestination has a MASSSSSIVE dev update for y'all, it's really huge!
Stellar Tactics has a new dev blog with lots of new tidbits.
The Concept Ships blog has stuff from Dorje Bellbrook, Gary Sanchez and KaranaK for your viewing pleasure
Finally, OMG you guys, so many patches!
Finally, in sales, Humble is having a big sale (which is where I got Tooth and Tail), so head over there and check it out!
That's it y'all! Have a great weekend, and I'll see you next week!