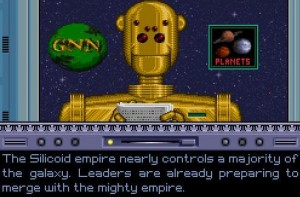 Hey there everyone, happy Thursday! The weekend is creeping up upon us all, and in the hopes of adding some positivity until we get there, I've got some space game news to drop on y'all (yeeeah, makes no sense, leave me alone, I'm reallyyy tired. ;). That said, here's today's news!
There is now a demo for Drox Operative. Wait, why are you still here? You thought I was gonna say more? GO GET IT AND PLAY IT DAMMIT! ;) I've talked about it plenty, so now you can see what the fuss is all about.
Also in happy news, the Kickstater for Star Citizen has passed $1,000,000! This now unlocks the Idris-class corvette — the largest playable ship in the game — and gives some more in-game money to all backers. There's also an update from Chris Roberts announcing that their combined crowdfunding efforts have reached $3,000,000! Congrats to them!
Strike Suit Zero also has happy news on their Kickstarter, as they've reached the $130,000 stretch goal allowing mod tools to be released! Awesome!
Over on the Kickstarter for Elite: Dangerous, David Braben has chimed in saying that new material, including a video, will be going up on their Kickstarter page tomorrow. I await with bated breath.
Over on Space Sector, they have a look at the recently released beta spacey defense game, Solar War.
The blog for Galaxial has an update on the progress of the game, which include galaxy changes, new jumpgates and more.
One of the devs for FTL got bored without power, and created a "big bead sprite" of the Kestrel, which you can see on their Twitter.
Finally in gamey news, the Kickstarter campaign for StarJacked: The Adventure Begins has been launched. Again. Not sure what happened but they're calling it a "reboot".
Finally, on the Concept Ships blog, there are some fantastic designs courtesy of Jason Stokes. That's all for today my friends! Thanks for visiting and reading, and have an awesome day!