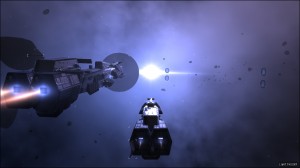 Thanks a lot to reader Serge for sending this tip in (and reminder, if y'all know of a Kickstartered spacey computer game I've not covered yet, don't hesitate to contact me directly).
Now, Serge wrote me to tell me about a Kickstarter campaign for a game called Limit Theory. It's a single-player, procedurally generated open universe space game where the player can basically do whatever they want, from flying one ship to hundreds, landing on planets to owning property and a lot more. After watching the video, I gotta say, this one really clicked with me, so I'm quite excited about it.
So head over to Kickstarter and check it out, and stay tuned for a Q&A with the developer. Enjoy!