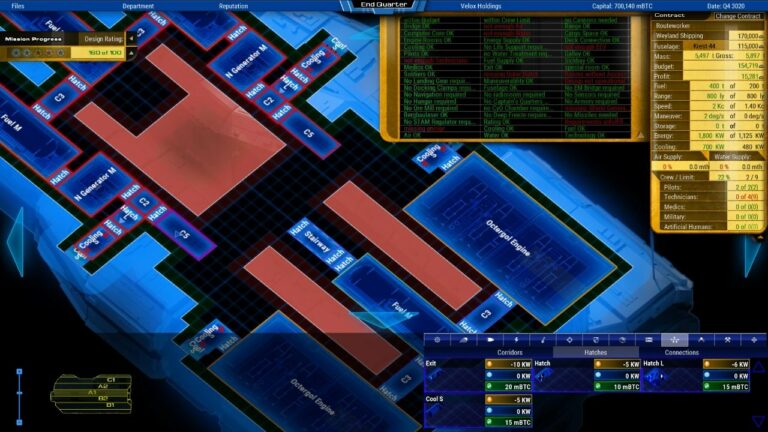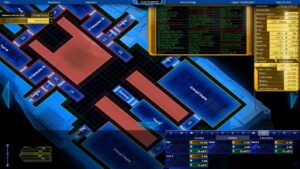 Heeyyyyy friends. How've you been? Like last time, it's been forever and a day since I wrote one of these, and again, I apologize. I was part of a wedding last week, so that took up a lot of my time, plus work was super busy, so I barely had any time or bandwidth to write on of these. Thankfully things have stabilized, and I've been busy with videos, so let's dive in, starting with this week's game, Starship Corporation:
This is a business simulation in which you create and test specifically-designed ships for clients with specific needs, like food transport or mining or fighting pirates (you can also build ships for yourself as well). Much of the game involves tweaking and testing these ships in real-time scenarios (which can also, thankfully, be auto-resolved). You'll spend much of your time designing ships to fit these needs, and your design is limited by the technology you've researched and the fuselages you have access to (which also need to be researched). It's a balancing act of using your money wisely in a variety of areas. Sadly, the game's apparently biggest portion — the ship designer — is super finicky and, for someone like me, problematic. I'm not good at designing ships, and while the game does tell you what you're missing and what not, it leaves how to solve those problems entirely up to you.
Sadly, it leaves how to solve those problems ENTIRELY UP TO YOU. As in, there's like no help at ALL on how to do a lot of tasks. I mean the game has tutorials, but once you've passed them, it's basically, "Good luck buddy." I felt lost a lot of the time, and while some folks might revel in this freedom to design the interior of a ship however they like, I would've liked some assistance. For some, this game will be bliss. For me, it was just frustrating. It also a bit biggy, like some things took multiple mouse clicks to select. Overall it's a great idea for a game that some folks will love. I'm just not one of them.
Last week's game of the week was The Spatials: Galactology:
This game also involves a lot of building — this time a base rather than a ship — and while it's a bit more guided in that it has a lot of goals for you to reach, it also could use smaller, more structured scenarios to help ease the player…or me…into the game. Right now it's basically just a big, open scenario in which how you proceed is entirely up to you. While, again, some gamers will likely love this, I missed the structure of a campaign akin to something like RollerCoaster Tycoon, which is something this game could sorely, sorely use. Overall it's a great game, just not really for me.
In terms of single videos, I spent time with Space Battlecruiser:
This is a fun, top-down shooter in which, rather than playing the usual quick and nimble fighter, you control a lumbering capital ship with multiple turrets. It actually has a lot to it, such as a resource meta-game in which you not only collect your own resources for upgrades, but disrupt your enemy's supply lines. For a $5 game, it's surprisingly deep and fun, and I can recommend it to anyone who likes space games.
The final one-off video I made was for my current obsession, Warhammer 40,000: Inquisitor – Martyr:
You guys, I love this game so much. I've put more hours into it than a lot of other games already, and it's just in its alpha stages. It feels so right in so many ways. The combat feels meaty, the settings feels appropriately grimdark, and the content feels fairly endless, with campaigns, random missions, mini-campaigns and more, much of which can be played in co-op. I can't WAIT for the final version of this thing.
Beyond that, we spent some time playing the board game, The Captain is Dead:
Which was a ton of fun. I'd never played the game before, but it was easy to pick up, and very challenging to play. We'll likely revisit it in the coming months.
Beyond that, much of my non-blog gaming time has been with the aforementioned Inquisitor. I also spent time with the really fun RTS/CCG mix, Golem Gates, as well as Mass Effect 2, which I began to play in order to record some video for this week's podcast, and so far am actually really enjoying it. It won't take time away from Inquisitor, but it's a nice distraction.
Alright, my friends, enough about me. There is a LOT of news y'all, so let's hit it!
Starship Corporation has come out of early access! We also saw releases of Last Encounter, Slizer Battle Management System, and Star Explorers as well!
Star Trek: Bridge Crew is getting an Enterprise-D expansion!
Battlestar Galactica Deadlock is going to announce new DLC tomorrow!
Ancient Frontier has launched its new, free DLC entitled The Crew. No, not that The Crew, this is a different The Crew. It also got a follow-up patch to go along with it.
Universal Combat CE has a lengthy dev update about upcoming improvements to the game.
Void Destroyer 2 has a new dev update about the game and their new baby!
Astrox Imperium has two devlog videos, one covering options and the other covering sensors. I want this so much.
Sunless Skies has a new dev update on threats in the game, and a new patch to go along with it.
Star Traders: Frontiers has had several updates, covering new ship hulls, weapon rebalancing, custom keybindings and prize ship talents, among other things.
Stellaris has a new dev diary out about its upcoming story pack. It also got a new, pretty hefty patch.
XO has a new development update regarding relationships with your own ships.
Interstellar Rift has a new dev update in which it discusses how the player can get fines.
War Tech Fighters got a new supernova update with more missions, challenges and more. Time to revisit!
Rodina has updated how one gets a GravBike.
Fringe Wars has seen a good deal of progress, according to this devblog.
Endless Space 2 has a new Branching Paths story comic for y'all to read.
Hellion has a new dev update has news on its hud and more.
Wayward Terran Frontier: Zero Falls is revamping its save format.
Interstellar Transport Company has a roadmap update on what's coming up with the game. There's also a new patch as well.
Avalon: The Journey Begins got a new DLC called Ship Upgrades, which adds new toys to the game.
Skywanderers has a new dev update showing off its new multi-tool, targeting systems and more!
Convicted Galaxy's developers are back at it after a needed break! Yay!
Galactineers has a development update with lots of updates buildings and more.
Galimulator got a patch which actually adds religion to the game!
Lazy Galaxy got a fairly big patch that adds queues and such.
Solar Settlers got a new patch that refines its weekly challenge and more.
Evochron Legacy got a pretty extensive patch that adds or fixes dozens of things. Seriously, like a lot.
Space Impossible received alpha 13, which expands its solar system!
AI War 2 has released its soundtrack, which I have to buy because Arcen's music is AMAZING. You can now also wishlist it on Steam.
Empyrean Frontier got a fairly large patch which adds tech upgrades, unit abilities and more.
Everspace has a new patch that improves VR and joystick support.
Steredenn got a pretty big patch which enhances threat triggers and more.
Solaroids: Prologue got a patch which makes powerups far more clear and distinct.
NEXT JUMP: Shmup Tactics got a nice little patch which fixes some bugs.
Cycle 28 also got a little patch with some bug fixes.
Scavenger SV-4 got a patch with tool updates and quality of life fixes.
Star Fleet Armada: Rogue Adventures got a patch which tries to balance resources on planets.
Space Flowers got a tiny update with a bunch of little fixes.
Gaia Beyond got a new patch with mining stations and such.
EVE Online has launched its Operation: Conscious Interruption event, going now through May 15th.
Star Zeal looks like a nifty 4X that's currently in development.
That's it for now folks. Have a great day, and thanks for reading!