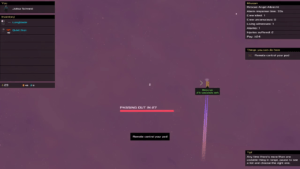 Hello my friends, and welcome to Monday! I dunno about you, but my weekend was busy as hellfire. Thankfully I did have a little time to get some gaming in for myself, but more on that in a moment. First, let's talk about our games of the week, starting with Heat Signature.
I had so much fun with this game, it's silly. Seriously, it's so deep yet ridiculous that it's just a joy to play, even when you lose. Basically, you choose a character with which to take on missions. Each character has some kind of personal mission, but they also need funds to get better equipment and such, so you can take a variety of missions, from theft to assassination and kidnapping. In this first entry, I had a great time getting kicked out of the same ship three times, I think. Just hilarious, and yet educational at the same time. The game lets you pause, and I totally was not taking advantage of that. I can't wait to play more of this thing.
The second game of the week was a bit less exciting. Ancient Frontier is a game of turn-based tactical combat and fleet management. There are two campaigns, Federation and Alliance, so I began with the Federation. The game has some interesting things, like allowing you to choose your story mission based on your dialogue choice, and the fleet management stuff is kinda neat. Unfortunately the tactical gameplay, so far, is kind of a slog, and I'm just getting bored whenever I play. I'm gonna do two entries as the Feds and then two as the Alliance, with the last being whom I prefer more between the two. Maybe it'll get more fun as I go. Maybe.
The final game of the week is the buggy mess of a thing called SpaceDweller. It's not a BAD game, per se, it's just…problematic. I've recorded two entries for it, and each time the game has bugged out to the extent that I can't do anything. The first time this happened, I restored a save, but that was also corrupted. It's a shame because the game itself isn't bad. It needs more stability and a tutorial — even though it's fairly straightforward, there are a lot of little things a tutorial would help with — so while it could be patched an fixed up, right now it's something of a mess.
Finally I had some fun with our last Earth & Beyond stream yesterday. Unfortunately, since I had so many videos to record, I could only spend an hour streaming. Even then I was really feeling rundown by the end of the day.
Other than that, I spent some more time with Space Tyrant and Geneshift, which was a lot of fun. I also loaded up some Star Wars Galaxies yesterday with the SWG: Legends mod, and had a really great time. The Legends emulator mod thing has even more content than the SWGEMU stuff, including the space flight stuff from Jump to Lightspeed! I also spent time with the game we'll be talking about on tomorrow's podcast, Galactic Crew, which I had fun with when it wasn't crashing. ;)
Alright, enough about me, let's dive into the news, and there is quite a bit!
Finally, in sales, Steam's Weeklong Sales have a bunch of spacey titles in there. Secondly, Bundle Stars has a Mega Pick Mix bundle with some spacey goodness. Then, IndieGala has a Monday Motivation bundle with the fun Cashtronauts. Finally, Humble is having a Very Positive Sale that includes Homeworld and Rebel Galaxy.
WHEW! That's it for today folks! See y'all bright and early for the podcast tomorrow morning. Thanks for reading!