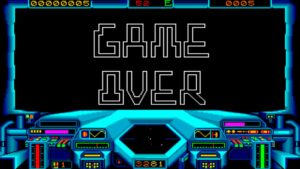 Opening/Random Thoughts
Hey friends, welcome to something new I'm gonna try. I really like the idea of these dispatches, to bring you news, deals, our latest videos and so on, but they eventually became too big in my head. Days and weeks would go by, the news would pile up, my thoughts would get scattered, and I'd just shut down, rather than plow through and actually DO THE THING (i.e. this). So I've tried to pare this down into its basics: What do I want to include in a daily digest like this. Basically, what I want is:
To share today's video, as well as my thoughts on it, so folks who can't watch the video can at least know what it's about.
To share the latest news in space gaming.
To share the latest spacey gaming deals.
To share my passion and excitement about what I've been playing lately.
To share what's been on my mind, gaming wise (i.e. this!). ;)
And I feel like I've come up with a template to do that. What I hope is that, with this being as efficient as possible for me to post (i.e. I'm not gonna link every game I mention anymore because that takes too much time, and prevents me from wanting to do this at all), I'll have no issues doing this each day (M-F of course, the weekends are mine, and also when I do a lot of my recording). ;) I also hope this'll be as efficient as possible for you to read. Basically, each of these dispatches will cover what happened since the last one, so you'll always be informed.
The biggest challenge, for me, will be to stick with it, but I hope with daily reminders and a streamlined format, I can keep it up. I'm open to suggestions though, so please let me know if there's anything you'd like me to add or any way I can streamline this further. Now, onto the stuff you're really here to see.
Today's Video(s)
This week's video looked at 1986's Starglider. I was asked specifically to play Starglider 2, but since I'd never played the first one either, I figured I'd start with this. What a weird thing. The novella is pulpy schlock at its finest, and the manual actually tells you NOTHING of what you're actually supposed to do. I am so, SO hoping the next game is as good as they say, because this one left me really just…kinda frustrated.
Since we couldn't play Borderlands 2 last night, I still wanted to stream SOMETHING, so I decided to give Lightfield HYPER Edition a whirl, and wow, what a pleasant surprise! More than a traditional racing game, this game encourages tricks, exploration and creative controlling such as drifting and more. The maps are just a joy, so far, and the challenge are really satisfying. This is definitely a game to keep an eye on if you like racing games IN THE SLIGHTEST.
Today's News
Since there wasn't a post yesterday, I'm gonna try to hit y'all up with the big news from the past few weeks.
The daily posts will include a more granular look at the news each day, which should help me post these more quickly. ;)
Today's Deals
What I've Been Playing
Since I lost my main gaming hard drive, I have almost NO space, so I've been having to play smaller games. This includes:
Horizon Chase Turbo – Which is AMAZING. Seriously, if you love Outrun, get this.
Door Kickers – I've owned this for years and can't believe I've not touched it until now. IS SO GOOD.
Dead Cells – MAN this game is hard. Amazing, but haaaaard.
Airships: Conquer the Skies – This is such a surprise. Efficient build system, clever AI and an AMAZING conquest mode, all in single and multiplayer.
So that's it, the first of what I hope will be a new series of daily digests to help keep me on the ball, writing wise, and keep you informed as to what's going on both around here and with space gaming in general. I hope y'all liked it, and I thank you for reading it.