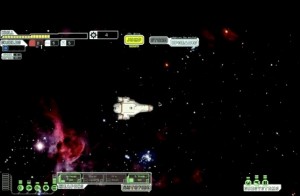 So y'all might recall this little spacey rogue-type game I mentioned a few months ago called FTL: The Game. It was up for an IGF award at the time, so no one was really able to play it but the judges, which kinda made me sad, but I signed up for further updates.
Well, yesterday I got an email that says that first, you can play the game's demo on OnLive — which for some reason I'm hesitant to try because I don't wanna sign up for OnLive, not even sure why that is — AND that they've launched a Kickstarter page to get the funding they need to bring the game to a full release. As of right now, they're at 186% of their goal, reaching over $18,000 of their goal of $10,000, which is pretty gorram amazing, if you ask me. If you support 'em through Kickstarter, you'll get access to the beta in a little while as well.
I'll be keeping an eye on this game, but it's good to see not only development moving forward on another space game, but that it's getting so much support from fans. It's stuff like this that makes me hope one day the bigger companies will see how viable space games are and begin investing in them again.
Edit: One day later, on 2/29/12, they've made 450% of their goal, as they've raked in $45,453 in pledges as I write this. That is just AMAZING. I hope it shows other developers how interested folks are in space games!!!