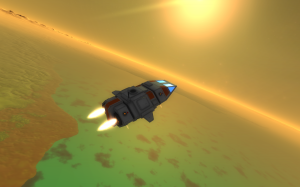 Say you wanna play in the open playground that is Elite: Dangerous, but don't want to shell out $75 for the beta version. You're in luck, my friend, because this week Jim and I take a look at some of the open-source Elite alternatives that cost significantly less (or nothing at all) yet still scratch the same type of itch as Elite: Dangerous. These include:
It made for a fun show, especially in the surprise discovery of Paragon, which I sadly forgot about until we were rolling. ;)
Podcast: Play in new window | Download (Duration: 1:20:48 — 40.8MB)
Subscribe: Apple Podcasts | Google Podcasts | Spotify | Amazon Music | Android | Stitcher | RSS | More
As always, if you have a suggestion for a guest or a topic you'd like us to cover, hit us up below or directly at hail@spacegamejunkie.com. Also of note, the video had some issues as we were streaming, both with my audio and with the Twitch cutting out a few times. YouTube can stitch videos together, but it still might be a bit jarring, so please keep that in mind if watching the video. Thanks again!