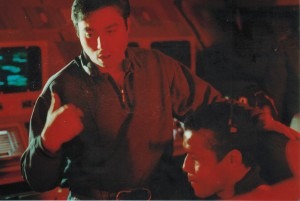 Oh. My. God. I'm still so flabbergasted and amazed we got to talk to this industry legend that I can mostly talk in one-two word sentences. Oh.  My. God. ;) Seriously, Jim and I were lucky enough to sit down to talk to the man himself about his games and his movies, and it was completely fascinating. Mr. Roberts was very generous with his time and his candor, and we can't thank him enough for spending some of his valuable time with us.
Podcast: Play in new window | Download (Duration: 1:36:53 — 37.6MB)
Subscribe: Apple Podcasts | Google Podcasts | Spotify | Amazon Music | Android | RSS | More
Oh, and OMG, he said he liked my site. SQUEEEEEEE! Seriously, I'm still on a cloud folks, no lie. :) We hope you enjoy the podcast, and invite your comments and questions below in the comments or on the forum. Thanks for listening, and please feel free as always to follow our RSS feed or iTunes feed. :) Have a great day!
Episode #04 Show Notes
Games Mentioned:
Movies/TV Shows Mentioned:
Kickstarters Mentioned:
People Mentioned:
Miscelaneous Links: