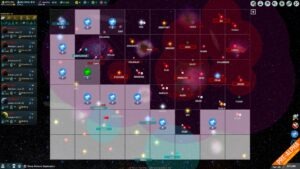 Welcome to this episode of the Space Game Junkie Podcast folks! This week, Jim, Hunter, Spaz and I sit down with Adam Solo (Developer & Game Designer) and Hugo Rosado (Developer and Art Direction) of Praxis game to talk about their upcoming Master of Orion 2 homage, the really fun spacey 4X game Interstellar Space: Genesis! We discuss the origins of the game, the legacy left by MoO2 that still affects game design to this day, the current state of the 4X genre and much more. It's a really fun and lively discussion, and the game, even in its pre-alpha state, is looking great.
Podcast: Play in new window | Download (Duration: 1:29:05 — 37.7MB)
Subscribe: Apple Podcasts | Google Podcasts | Spotify | Amazon Music | Android | Stitcher | RSS | More
Next week on the show, we're back at our normal time to talk to the developer of the fantastic space settling card game, Solar Settlers! As always, if you have a question or comment, feel free to drop them below, email us at hail@spacegamejunkie.com or hit us up on the forums. Thanks so much for watching/listening, my friends, and enjoy the show.
Show Notes
Games Mentioned
Master of Orion Series
Civilization Series
Emperor of the Fading Suns
Alpha Centauri
Star Trek: Birth of the Federation
Stardrive 2
Pandora: First Contact
Dominus Galaxia
Endless Space Series
Sword of the Stars Series