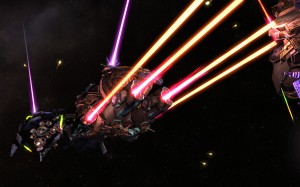 Welcome to this week's episode of the Space Game Junkie Podcast! This time Jim and I talk to Paul Tobia, or Rorschach on several forums, who is something of an expert on the Sword of the Stars series. I was fairly "meh" on Sword of the Stars II a little while back, so we asked Paul on to help convince us (and hopefully, you folks), that the game is worth our time.
Podcast: Play in new window | Download (Duration: 1:42:29 — 51.7MB)
Subscribe: Apple Podcasts | Google Podcasts | Spotify | Amazon Music | Android | Stitcher | RSS | More
We hope you enjoy this week's episode, and as always, invite your comments either below or on the forum. Thanks for listening!
Podcast #07 Notes
Games Mentioned:
Endless Space
Northstar
Sword of the Stars
Sword of the Stars II: Lords of Winter
Miscellany: