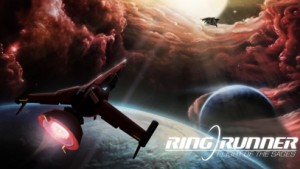 Hey y'all, I've been pretty busy of late, and I'll be honest, my commute is sucking away all my energy and drive (heh). However, I'm on a staycation this week, so I plan on getting caught up, and the first order of business is to let y'all know of some biggish releases of late that I wanted to give extra special attention to, which are as follows:
Void of Darkness is now on Desura for $5.99, and is aiming for a December 15th release date. You might recall our podcast with the developer a long time ago, and I've told y'all this is one I've been looking forward to, so check it out.
Ring Runner has had its Steam release, so congrats to the team! It's on sale $8.99 until tomorrow, so check it out if you've been meaning to, as it's a fun game and I plan to release a video review soon. :)
Gimbal has also been released on Steam, and while I've honestly not given myself much time with the game, that will definitely need to change. It's on sale for $10.04 until tomorrow.
So please give these games a look so they get the attention the deserve. Enjoy!
PS: I feel like I'm missing one, but I can't find an email or a link about it, so if I've egregiously missed one of these, please let me know. Thanks!