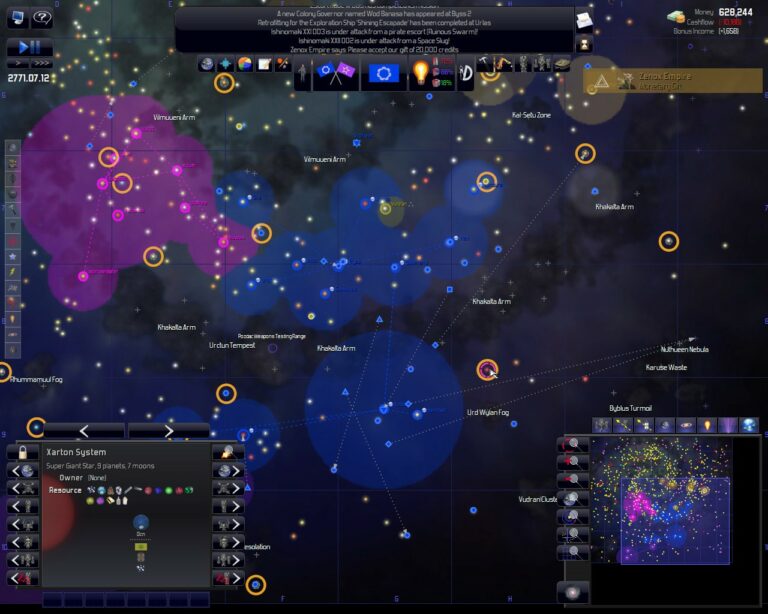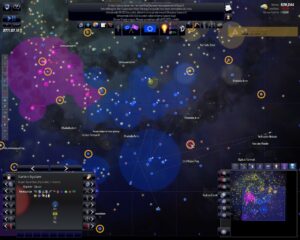 In our last adventure, Admiral Rubin had his eyes opened up to just how big the universe really is, and was offered a position in Leader Lapuri's senior council. In this final look at Distant Worlds – Legends, we see if Senior Naval Advisor to the Grand Leader (SNAGL?) Rubin can handle the new responsibilities put upon him.
I was just settling into my new office — god I'd rather be on a bridge, but the Empire needs me here… — when all of a sudden, I get an alert that Almas 1 has the plague! I send the 1st Fleet to patrol and quarantine the system so that ships are inspected coming and going from the system, to at least minimize the thread of the plague spreading. Private ship captains and shipping companies weren't happy with this, but it had to be done.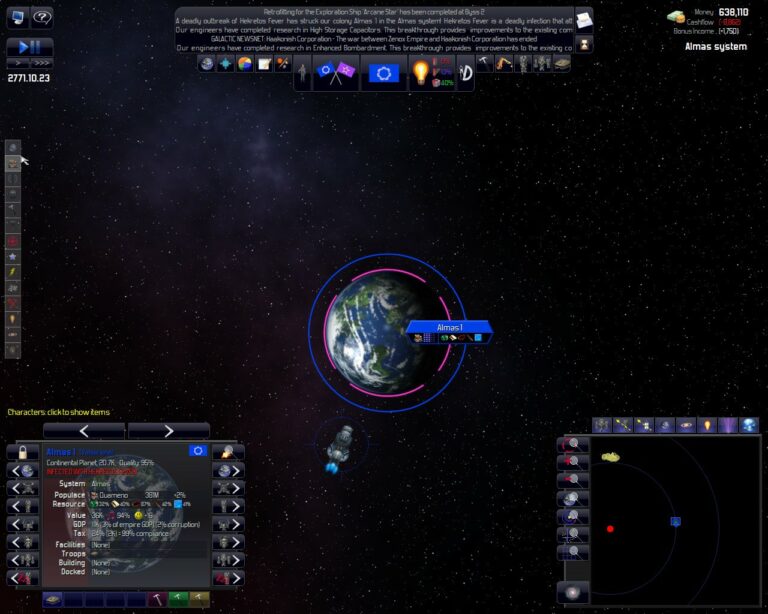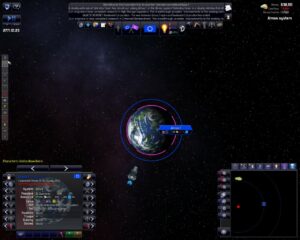 While I still had overall control over our navies — I gave "suggestions" to our admirals, who pretty much had to carry them out — I was also given the added responsibilities of overseeing ship building and intelligence gathering, since spies needed ships to get around, and we had to coordinate that on our end. I thankfully had a spate of advisors in every branch who helped me manage everything.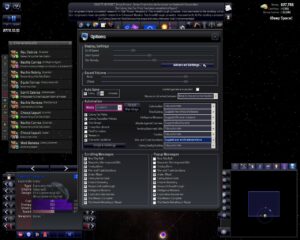 Firs my first days in office, things are fairly quiet. We awoke a sleeping race, who warned us of the "Dark Ones", and found an amazing new technology called the Devastator Pulse, which would certainly help our navies defend our borders. However, days after this discovery, we received a courier delivering a declaration of war from the Great Xagubah Realm!! I'm not sure if they were reacting to my assumption of my duties — since I had won several victories over pirate gangs, and was seen as something of a trigger-happy commander — or of our discovery of the Devastator Pulse. Regardless, it seemed too well timed to be mere coincidence.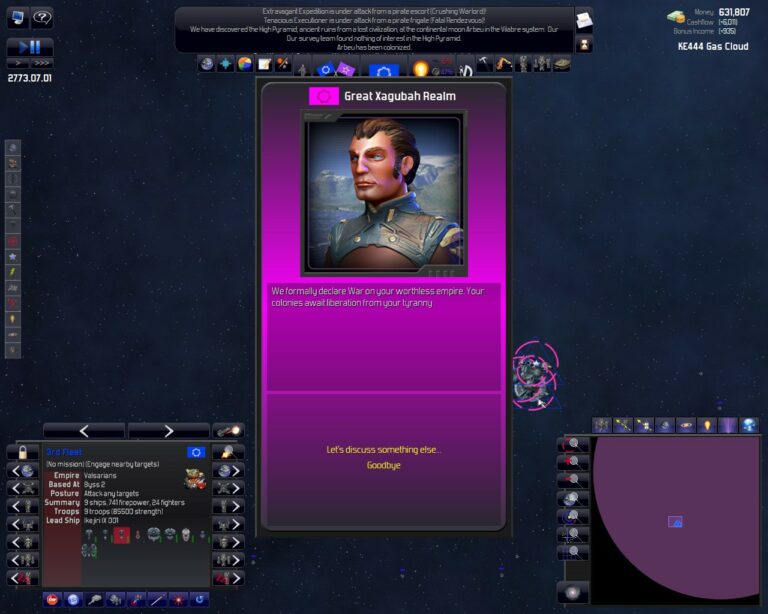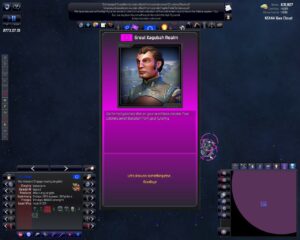 We were not prepared for war! While we had some fleets and some lone ships on various missions, they were engaged in patrol and pirate protection duties! I immediately took charge and ordered a building effort to grow our fleet in order to face this new threat. I also formed new fleets from the scattered single ships that were on other duties, directing them solely to the war effort.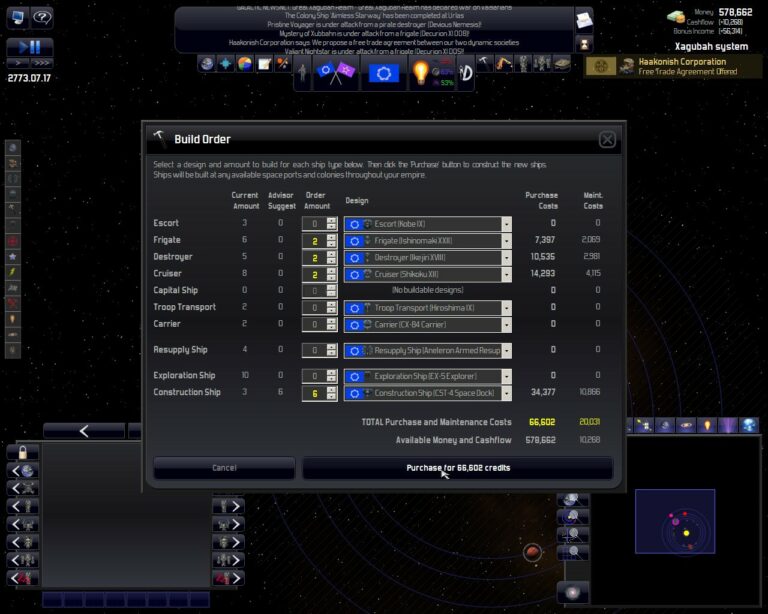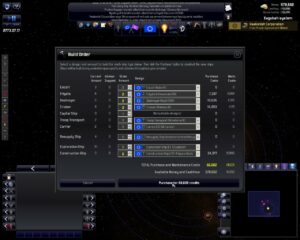 It didn't take long before the Xagubahs made the first strike, hitting industrial targets at the fringe of our empire. We were still mobilizing our forces, so we couldn't react in time, and I had to watch helplessly as one of our mining stations fell helplessly to the might of a mighty Xagubah fleet. I swore I would avenge the loss of our people several times over.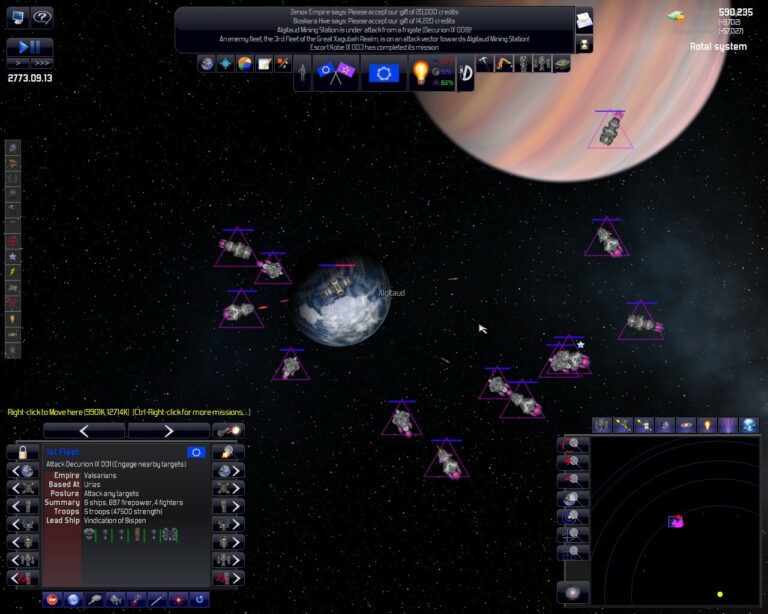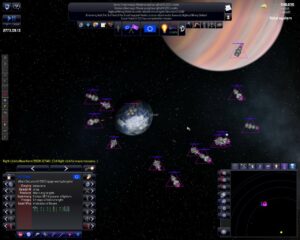 Eventually, we lost our colony on the moon Artoi, and it was around this time that our people starting to swing toward isolationism, tired of dealing with other races, pirates and so on. I could hardly blame them, given the circumstances, but we had to soldier on to protect the empire. Eventually the 1st Fleet was ready for a counterattack — the other fleets were still either refitting or gathering — so I ordered them into enemy territory to begin destroying industrial and shipping targets.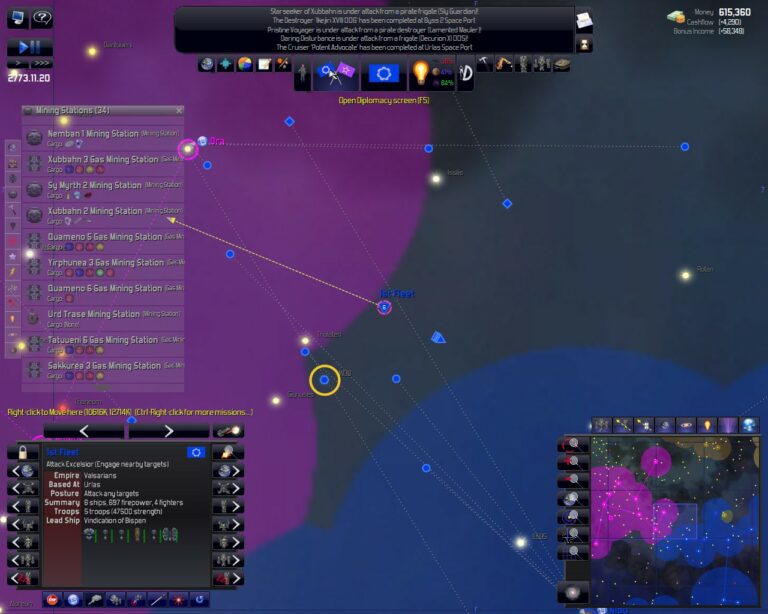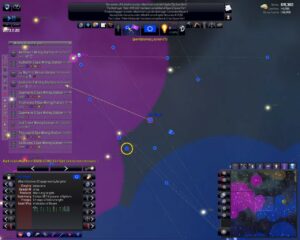 The 1st Fleet makes several successful attacks against industrial targets on the fringes of  Xagubah space, slowing the Xagubah offensive as they react to our strikes. This gives our other fleets time to mobilize and prepare for offensive attacks of their own. My advisors constantly monitor the status of our battles, and give me new targets to focus on when the previous one is destroyed. I don't know how I could've managed without them.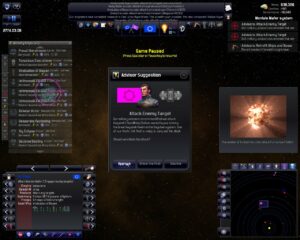 Sadly during this time, several pirate gangs offered us "protection" for our fleets in exchange for credits. Sadly with the war effort going on, we had little choice but to accept, lest we wanted even more problems on our hands. Meanwhile, the 1st Fleet made headway through Xagubah space and began probing attacks of their home system, which they took to none too kindly.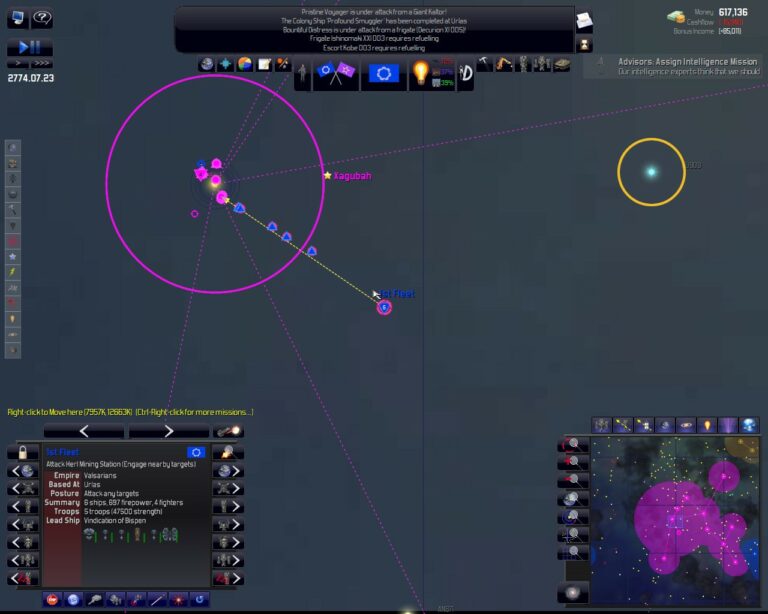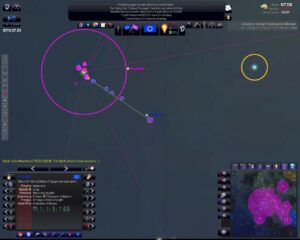 The 1st Fleet was making surprising headway at the enemy's homeworld defenses. Thankfully it seems as if our extensive research and refitting programs were paying off, because while our enemy at first had a numerical advantage, we had the advantage of more advanced ships. This made dealing with the enemy fleet around the Xagubah homeworld less of a problem than I originally thought, but we still lost some ships in the process. Thankfully the 3rd Fleet was finally on the move, and was also helping weaken the enemy.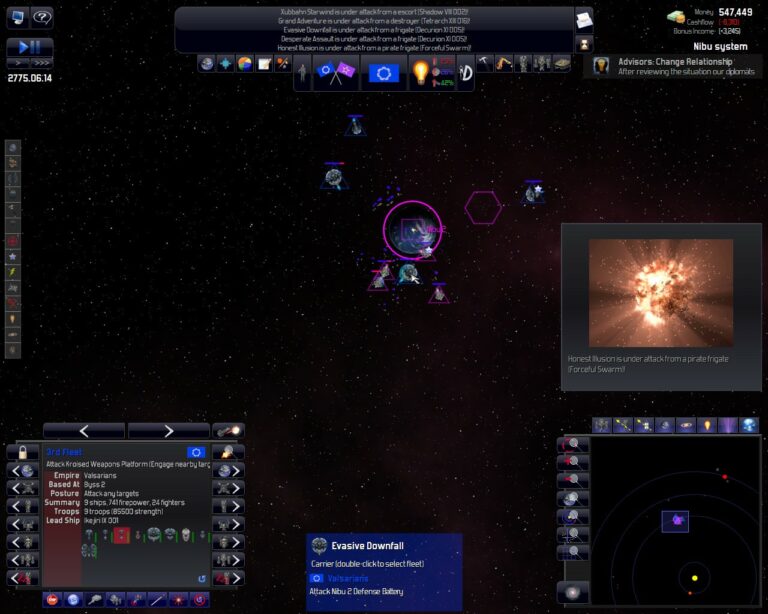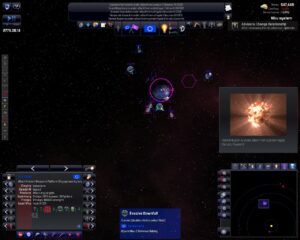 I ordered the 1st Fleet to withdraw and attack less-defended targets, since it was crippled in strength due to the loss of half of its already-small numbers. The 3rd Fleet continued to lay waste to enemy industry, and the massive 4th Fleet — with over 20 ships — was also making its presence known, leaving a trail of broken stations and ships in its wake. Finally, my newest fleet of some of our most advanced ships, the 5th Fleet, was ready to move in, and was ordered to attack one of the Xagubah colonies.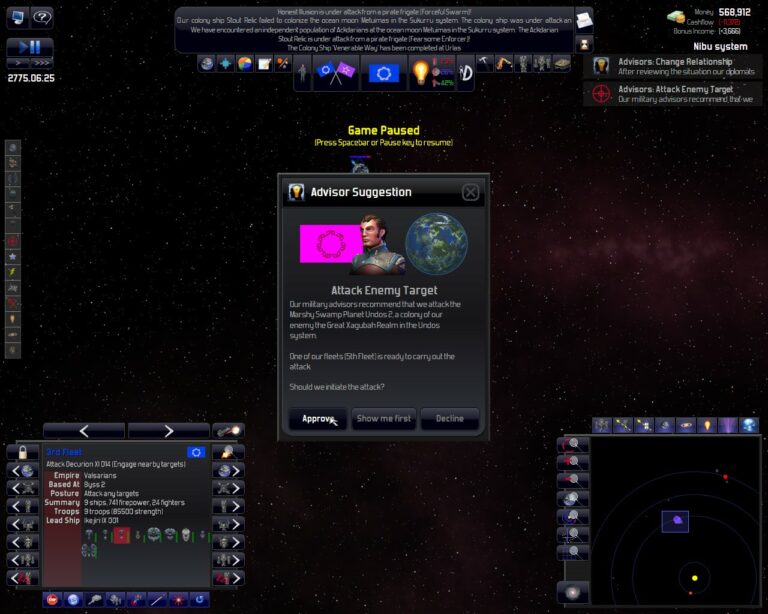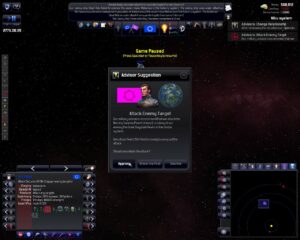 During the war, we tried a few times to sue for peace, the cost being asked by the Xagubah High Command was always too high, so we pressed on. After we laid waste to several more industrial and military targets, the enemy contacted US and sued for peace. Their price? One mining station, and nothing else. Honestly? I considered declining, and causing even more wanton destruction to their empire. I was sick of their posturing and sick of their attitude. In the end, however, I realized the cost would be too high in the end, and accepted their terms.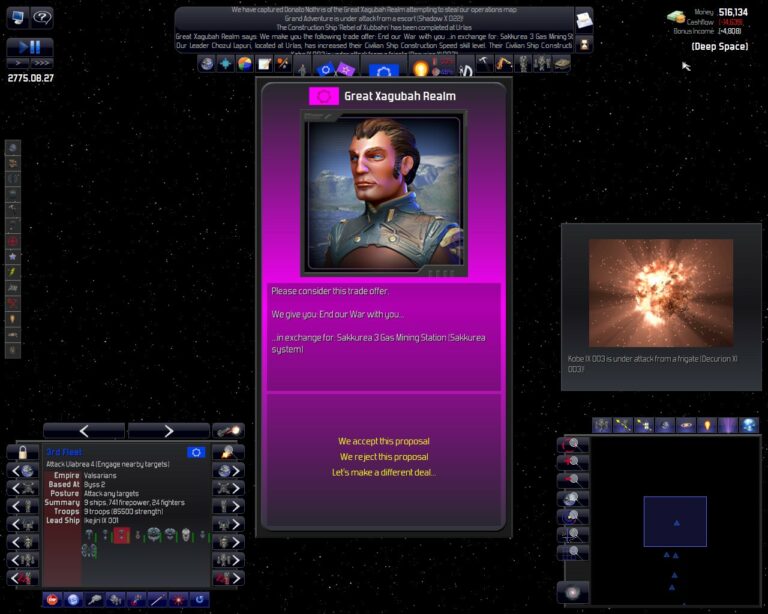 In the end, we lost a moon, a few mining stations, and less than half a dozen ships. The  Xagubahs lost one colony, over a dozen industrial targets, and well over a dozen ships (I lost count eventually). During the war, pirate gangs began to approach us and offered us an alliance, understandably awed by our mobilized military might. We, of course, accepted their generous offers.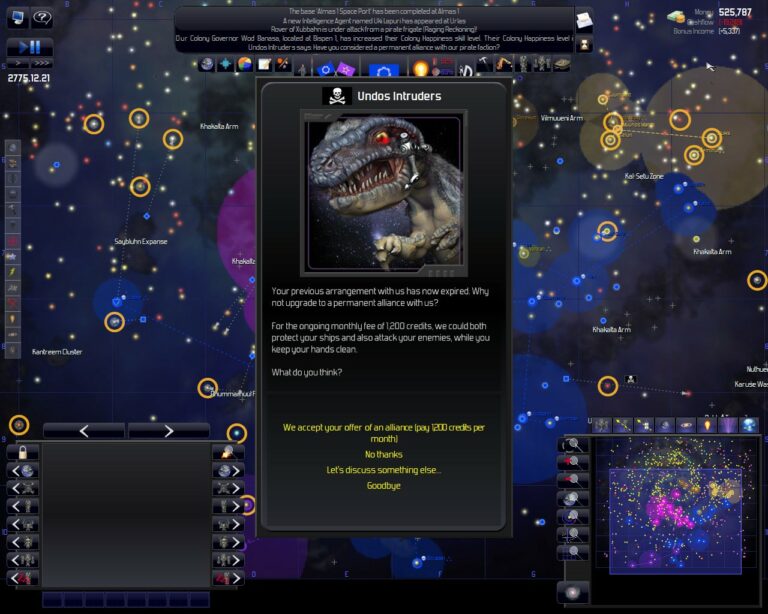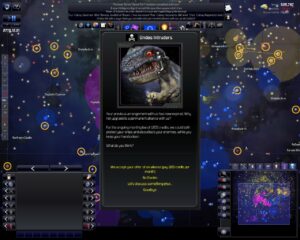 With the long war over, it was time for me to finally retire. Thanks to a comfortable government benefits package and savings of my own, I was able to begin building a new home on a remote moon, so my family and I could live out our years in hopeful peace and comfort. I was hailed as a hero, both against pirates and empires, but in the end, I just felt I was a soldier doing my job, and I was happy to do it. The last day of my job, before the retirement ceremony, my secretary came in with a smile on her face and a message on her tablet from the Galactic Newsnet. The Great Xagubah Realm had declared war on the Ancient Guardians. I smirked, knowing they had no chance of winning, and left my office for the last time, secure in the knowledge that my beloved empire was safe, well-defended, and emboldened to take on any future threat that might come our way.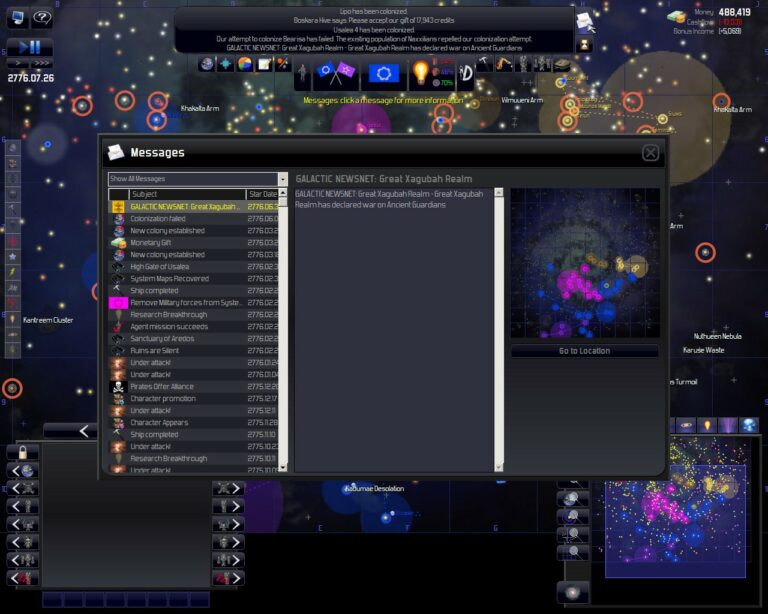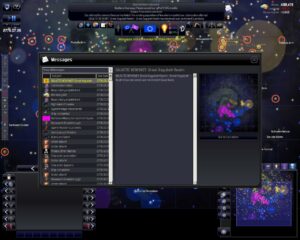 I have to admit, right here and now, that Distant Worlds – Legends has dethroned Imperium Galactica II as my favorite 4X of all time ever in the history of anything. I was having a grand time moving ships around the galaxy in the early days of my "career", but when I opened the game up and began taking on more responsibility, I was given one of the best rides I had ever had in gaming, period.
The folks at Code Force truly have something special here. With a vivid, alive universe, and many ways to interact with it, I think they've achieved something truly unique in the space  4X strategy…space. This game was a pure thrill to play from beginning to end, whether I was only commanding one ship, or determining the fate of several with advisors to help me out. I can't gush enough about how wonderful a time I had playing this game, especially this last session, which was particularly thrilling. I was honestly out of breath when it was over, no lie.
So, even as relatively expensive as Distant Worlds – Legends is, I can say that it is completely worth your money and time. It does something different and wonderful with the traditional 4X formula, and really shines as a result. I can't recommend this game enough for space strategy fans, and I hope I've conveyed that through these reviews.
I hope you've enjoyed my series of diaries looking at Distant Worlds – Legends, and thank you for your time in reading them. Now please enjoy all of the screenshots I took for this article below in my gallery, and have a great day.