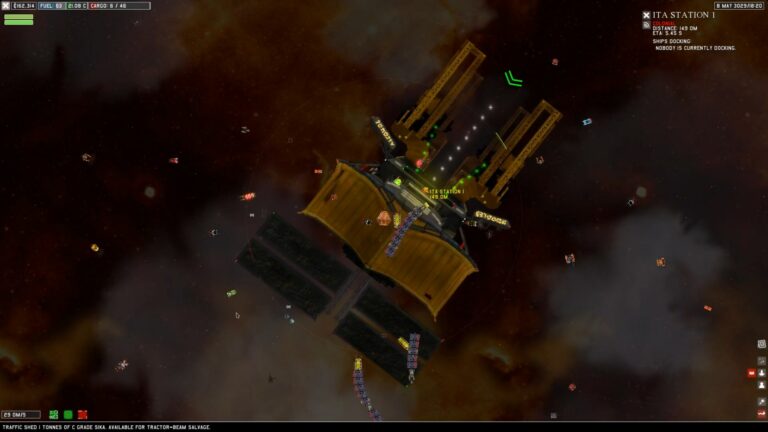 Welcome to this episode of the Space Game Junkie Podcast my friends! This week, I (sans Jim and Hunter due to the timing, it was a morning show) welcome the owner of Crunchy Leaf Games, Max Dohme, who is also one of the developers of the fantastic space adventure game, 3030 Deathwar Redux. This is, technically, the third iteration of this game, which was originally released in 2007, so we talk about the game's history and what's brought it to this point. We also talk about indie game development, early access, publishing, adventure games and much more! It was a lot of fun! I also love, love, love this game, so I was very happy to talk about it.
Podcast: Play in new window | Download (Duration: 1:35:48 — 31.9MB)
Subscribe: Apple Podcasts | Google Podcasts | Spotify | Amazon Music | Android | Stitcher | RSS | More
Next week on the show, we're back at the normal time (Tuesday, 5:30 PM PDT) to talk to the wonderful folks at MinMax Games about Space Pirates and Zombies 2! YAY! As always, if you have a question or suggest, you can leave them in the comments below, email us at hail@spacegamejunkie.com or hit us up on the forums. Thanks for listening/watching, and we hope you enjoy the show!
Show Notes
Miscellaneous Items
Blitz Max Game Engine – The engine upon which the game was built.
Games Mentioned
Enter the Gungeon
Elder Scrolls Online
RymdResa
Elder Scrolls: Skyrim
Elite 3: First Encounters
Monkey Island
Frontier: Elite 2
X Rebirth
Wing Commander: Privateer
Worms
Curious Expedition
The Curious Case
Stars of Icarus
Transcendence