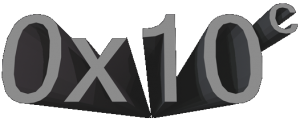 So a little while back, I wrote a story about how Notch of Minecraft fame was talking about creating a new space game, which, new space game, yay, I was fairly excited. However, since then we've learned that the game has a name — 0x10c — and that it'll be a hard sci-fi sim with its own built-in 16-bit CPU. The more I've read about it, however, the less excited I've become…
First off, I'm gonna be honest…I didn't like Minecraft. Not. One. Whit. I purchased the beta because there was all this hype about it, and tried to play it by building stuff, but in the end I just got bored. I've heard they've added an actual "game" to the game — a "there" to the there if you will — since I last tried it, but I honestly have no intention of returning. I've never been a huge fan of crafting in games, and here's a whole game about crafting.
Therefore, when I heard about Notch's plan to create a space game, I was somewhat excited — based on how I felt about his previous game — but upbeat because, hey, new space game. However, once more details emerged about the game, I became concerned that, even as a huge space game junkie…this game might not be for me. I mean I love flying through space and shooting stuff, but I don't wanna have to program an entire subroutine in some programming language to tell my ship to shoot something.
Now yes, I've been told that one doesn't have to know programming or compiling to play the game, rather one would enjoy the spoils of others who DO know how to do those things, but I dunno, that feels like a huge portion of the game is cut off from me, just because I'm not a programmer. I like EVERY other aspect of the game mention on the game's website, but something about this programming nonsense is REALLY rubbing me the wrong way.
Now, granted, I've yet to see the game in action — I've only seen a smattering of screenshots — nor have I tried it out myself, so I could be completely wrong, and in for a huge surprise. However, as of right now, I'm keeping my expectations very, VERY low on this one.
I do hope it turns into something great, because if someone as high-profile as Notch made a wildly successful space game, it could be the kick in the seat this genre needs to get back more into the mainstream of gaming. I'll totally be covering the game here, and I do plan to keep my mind as open as possible, but I figured I should come out and say that…this one just isn't doing it for me, at least at the moment?
What do you guys think? Are you excited about this game? I'd love to read your thoughts in the comments. Thanks for reading, as always!