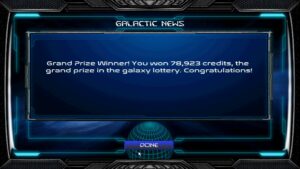 Hey friends, happy Friday! I am so wiped from this week y'all, but I've a LOT to do over the weekend. To start off, today's final Star Merchant video has me winning another game, so yay! This is a really, really fun little game y'all, and definitely worth your time.
Last night's Mechwarrior: Living Legends stream was a ton of fun. That game really is an achievement. It's got mechs, tanks, aircraft, artillery craft and elementals all flailing about on really massive, impressive maps. I wish there was some single player element to it, but I'll definitely be joining some multiplayer matches here and there. I REALLY liked it. If you like mechs at ALL, you need to check this out since it's free!
This weekend I've a lot on my plate I hope to get accomplished. Besides the game of the week, Battle for Orion 2, I'm gonna try to fit in some TIE Fighter, Lemuria, Space Slam AND Starfighter: Origins if I have enough time. I'm actually gonna get started on all of that tonight and try to get it all done by Sunday. We're busy much of tomorrow so I'll see how much I can get out, but it'll be fun regardless.
Sunday morning is our last monthly Jumpgate stream! I've honestly no idea what we'll be doing since I totally lost track of the date, and this totally snuck up on me! Wheee! We SHOULD be moving onto Allegiance next month, but that's even more player-dependent than Jumpgate, and from what I hear it's even more dead, so we'll see. I'm gonna be doing some testing in April, so if we need to do something else, I've no idea what, but we'll figure it out.
In newsiness, there's a SUPER SEXY post about the upcoming changes to Starsector, and they look just super delightful. There's also a nice post on Stellaris about colors.
That's it for today folks. Have a great weekend, and I hope to see some of you on Sunday!