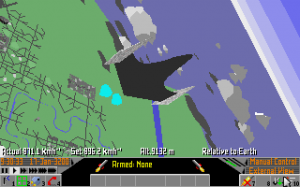 Edit 3: According to Eurogamer, Braben says video and screenshots are on the way. Soon, I hope.
Edit 2: This BBC story has a video where, in the background, you can see footage of the game being played.
Edit: 
So yeah, THIS HAPPENED! 
Elite: Dangerous
has launched its Kickstarter, and while there are oddly no screenshots or video, we have this:
Elite: Dangerous is the game I have wanted Frontier to make for a very long time. The next game in the Elite series – an amazing space epic with stunning visuals, incredible gameplay and breath-taking scope, but this time you can play with your friends too. I want a game that feels more like the original "Elite" to fly, and with more rapid travel (to allow for the multi-player nature of the game) – so you travel quickly using local 'hyperspace' travel rather than by fast-forwarding time – but with the rich galaxy of Frontier – and more, so much more.
They want 1.25 million pounds in 60 days. As much as I'm excited by this, I'm hoping they show us more of the actual game rather than relying on faith alone. I'll keep you updated!
Original: On Facebook today, the Facebook feed for Elite — which I THINK is official, or hope it is at least — posted the following:
 Everyone: thank you for your patience.

We should have some exciting news for you within the next couple of hours..

Watch This Space
About half an hour ago. What could it be? A release date for Elite 4? An HD remake of Frontier: Elite II?!?! I MUST KNOW.
Stay tuned folks!