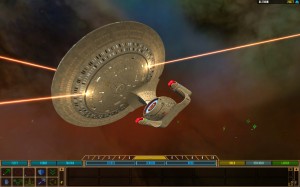 Not sure how I missed this, but several days ago, the excellent-looking Homeworld 2 mod Star Trek: Continuum was released in alpha form, and boy does it look amazing. This mod strives to capture the feel of Armada 2 but using Homeworld 2's excellent engine.
The mod has three playable factions, the Federation, Klingons, and Romulans, and includes a lot of features to pretty the game up as well as make it play better, like ship experience, new shader and so on. You can download the mod from ModDB or Desura, and you can click below for a nifty launch trailer! This makes me wanna snag a cheap copy of Homeworld 2 (no, I don't actually own it) and try it out.

Star Trek Continuum Release Alpha Trailer from Lord Dracir on Vimeo.