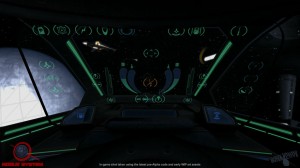 Hey folks, if y'all remember a while back we chatted with Michael Juliano about his excellent-looking high-fidelity space fighter sim Rogue System? Well, Michael contacted me last night to let me know he's found a publishing partner in Image Space Incorporated! This means the game will move ahead and become a reality! YAY! I couldn't be happier for Mike, and am now super excited to see this awesome looking game come to fruition. Click below to read the entire press release, and join me in the giddiness! :)
ROGUE SYSTEM FINDS PUBLISHING PARTNER
Digits Crossed Interactive and Image Space Incorporated Join Forces to Bring New Space Combat Simulator to the PC
League City, TX – 11/05/2013 – Digits Crossed Interactive (DCI) is pleased to announce that it has entered into a publishing agreement with Image Space Incorporated (ISI) to bring Rogue System–a new Space Combat Simulator that blends the classic space combat gameplay of the 90's with the detail and fidelity of a modern "hardcore" flight simulator—to the PC. 
"I'm thrilled to have the opportunity to work with ISI," says Michael Juliano, owner and founder of DCI. "They see in Rogue System an intriguing variation to typical space combat sims and are fully supportive of my vision for it." Expanding on this, Gjon Camaj, Vice President of Development at Image Space Incorporated says,"We are excited to partner with Michael and his vision for Rogue System. It is great to see his passion as he helps to reinvent the space sim genre."

Rogue System's Core Module will take space sim gameplay in a unique direction by allowing players to take control of their ship at system and sub-system levels from pre-flight to post-flight. Players will need to know their ship inside and out to get the most out of it at all times, especially during combat. Later, Expansion Modules will extend the life of Rogue System by adding new ships, campaigns and gameplay styles.
Rogue System's two-year development cycle officially began on November 1st, 2013. The first major goal is for the release of an early, playable Alpha version in 1st quarter 2015. The Gold release of the Core Module is scheduled for 2nd quarter 2016.
Digits Crossed Interactive, LLC was formed on January 2, 2013. Its founder, Michael Juliano, has 14 years' experience in the game development industry. To learn more please visit www.RogueSystemSim.com. ISI was founded in 1992. Their first title was Zone Raiders, published by Virgin Interactive. After creating a series of racing titles for EA they moved to self-publishing with the rFactor racing sim series. To learn more about ISI, please visit:www.imagespaceinc.com