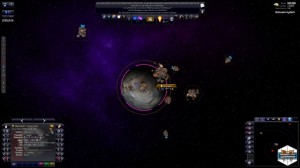 Thanks to Scotten on Quarter to Three for this tip. According to this post on the Matrix Games forum, Distant Worlds and its expansions (The Return of the Shakturi and Legends are going on sale for two weeks to celebrate the release of a huge update for Legends. From the thread:
To celebrate this huge update, we are placing all Distant Worlds titles on sale for two weeks, starting today and ending on September 4th, at 33% off! That means that Distant Worlds, which is normally $39.99 for the download price, will now be $26.99 and the two expansions are reduced to $16.99 from their normal download price of $24.99! This is a great opportunity to pick up that extra expansion you've been waiting on or jump into the whole series.
This means you can get the whole kit and caboodle for around $60, MUCH cheaper than the usual price of $90 for the whole kit. If you've been eyeing this game, I beg you, I IMPLORE you to buy it at this lower price to tell Matrix you support these lower prices (and also to get this awesome game, of course). Thanks, and enjoy!!!