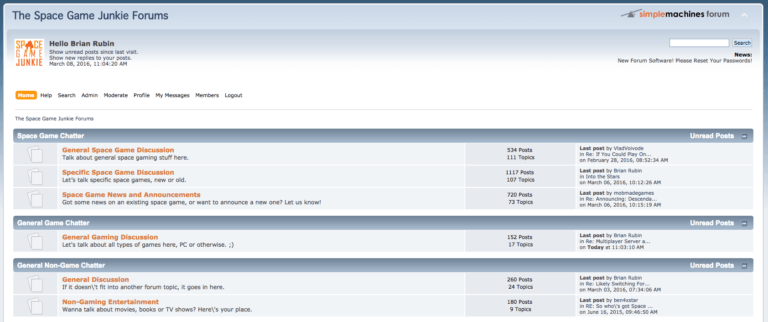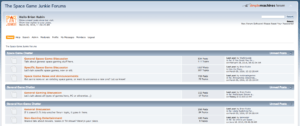 Friends, ever since I migrated the forum over to Simple Machines Forums a while back, I've been struggling on thinking how to make it more useful/interesting/relevant. In talking with Hunter about trying to get our folks together for more multiplayer games, collaboration and the like, it hit us.
The forum needs to be the centerpiece of all of this communication.
I mean sure we have awesome Facebook group, Twitter, Reddit, Mumble, but it's just all over the place. We need a central place for all of us to communicate, collaborate, set up non-standard (i.e. not our weekly stuff) multiplayer games and the like, and the PERFECT place is the forum. From the forum, we can set up talks on anything, and then share those talks on our Facebook feeds, groups, Twitter feeds and like and have everyone come to one place to discuss the latest and greatest in space gaming.
So folks, starting with this multiplayer focused thread, I'd like to invite you all to come to our forums, register an account, and talk space gaming. We already have a bunch of threads going on all sorts of games, but what will make the forum even better is you. ;) Hit up the introductions thread first off so we can say hello!
Thanks for visiting, and tell your friends too, please, to stop by and join us! With your help, we'll make the forum an excellent place to discuss gaming, space gaming and more. Thanks y'all!