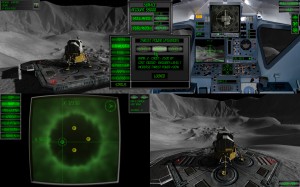 Edit: Well, that didn't take long. All codes are now accounted for. Thanks everyone! :)
Hey y'all, how are ya? Funny thing happened the other day. Sean from Shovsoft sent me a Steam code for his excellent — and challenging, to put it nicely — space leaping sim, Lunar Flight. I mentioned that I already purchased a copy which I have on Desura, but asked him if I could use the code in a promotion…so he sends me nine more codes.
That's class, people. :)
So I tried to think of the best way to get 'em to my readers — you folks — and I figured, why not just give them to y'all to show my appreciation for visiting and commenting on this blog? ;) This blog is a labor of love, I've said before, and I sincerely appreciate every visit and comment I get here. Therefore, since you all have given me so much joy, I wanted to return the favor.
The first ten individuals to comment on this post will receive a Steam code to Lunar Flight via email, so please use a valid email address and check for spam. :) This is my way of saying thank you to the good people who continue to visit my blog and keep my traffic going up each month since I've launched it. Thanks so much, and enjoy the game. :)