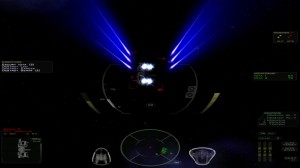 Welcome to this special impromptu edition of the Space Game Junkie Podcast!! In this special episode, Jim and I sit down with some folks who worked directly on the best game of all time (yeah, I said it), Freespace 2! Joining us are Adam Pletcher  (Lead Game Designer on Freespace 2, currently Studio Architect for Technical Art at Volition), Mike Kulas (Executive Producer on Freespace 2, Founder of Volition, Co-founder of Parallax Software), Dave Baranec (Lead Programmer on Freespace 2, currently Studio Architect for Core Systems at Volition) and Jason Scott (Designer and Writer on Freespace 2, currently Studio Design Director at Volition). To say I was nervous and trying NOT to fanboy all over these rock stars of the genre is something of an understatement. ;) That said, it was a damned fun show, and really informative as well. Y'all need to definitely tune in if you have any passing interest at all in either Freespace 2 or space gaming in general.
Podcast: Play in new window | Download (Duration: 1:07:35 — 61.9MB)
Subscribe: Apple Podcasts | Google Podcasts | Spotify | Amazon Music | Android | Stitcher | RSS | More
If you weren't able to join in the fun on Twitch, don't fret. Apparently more folks from the original team wanna come on and do follow up episodes! OMGOMG I'm still on something of a bit of a high after all this, I kid you not, and knowing that it could happen AGAIN? Well…it's just a bit overwhelming. That said, I truly hope you enjoy the show, and thank you for listening.