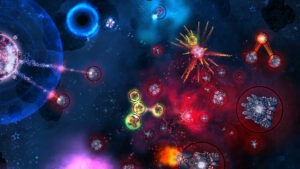 Welcome to this episode of the Space Game Junkie Podcast! In this episode, Jim and I sit down with several folks from Artifice Studio, including  Co-founders  Yan Pepin and Vincent Blanchard, along with community manager Adam Rotondo, to discuss their chicken-friendly physics-based tactical space combat game Conflicks! It's a really fun time as we discuss the game and its origins, the rigors of dealing with Steam as an indie, and much more.
Podcast: Play in new window | Download (Duration: 1:49:20 — 28.6MB)
Subscribe: Apple Podcasts | Google Podcasts | Spotify | Amazon Music | Android | Stitcher | RSS | More
Next week we'll be talking to the developers of the upcoming space 4X game, Lord of Rigel, so stay tuned for that, and as always, hit us up at hail@spacegamejunkie.com if you'd like to suggest a guest or a topic for a future show. Thanks for watching/listening folks, and we'll see you next week!