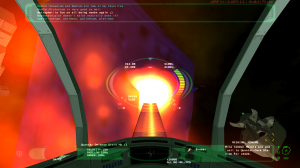 So as y'all might've seen the other day, my beloved MMO Jumpgate is back in action, being run by some anonymous Russian folks I had the pleasure of conversing with. After I received their permission to spread the new of the game's existence, I then asked if they wouldn't mind doing a Q&A. I've tried to ask questions that avoid legalities, since I know nothing of such matters, and focus on the game itself. Since English is not the respondent's first language, I left their answers unedited so as to try as best as possible to retain their original meaning. I'm not the best at coming up with Q&A questions, so I apologize for that, and the respondent isn't the best with English, for which they apologize as well. ;) With that said, please enjoy the Q&A, and go play Jumpgate, dernit. It's free! ;)

Brian Rubin: Please tell us about yourselves and how you got involved in this project?
Jumpgate Admin: My order forbids me to say who I am. But I can say that I am programmer with deep roots USSR. I can also say that I have long played Jumpgate before its closing. I'm pretty hard to worried about it but could not do anything. But the universe loves to ask questions ….. and that's the end of November I was contacted and asked if I can help with part of the web Projects. Naturally I can not refuse, so I was in jumpgate-tri.org.
Brian: When did the project to resurrect Jumpgate begin, and how was it undertaken?
JA: Apparently I ran a little ahead. But once the project had a lot of work to restore some of the functional operation and is now very much, now my colleague is doing such a map display in jumpgate-tri.org, I take sqads unfortunately New Year holidays are over and I have to go to their primary work and my boss seems to have already guessed that I'm at work doing something other than more than work.
Brian: What was done to the server and the client to make it all work together again?
JA: I am responsible only for the web part but I know that some parts had to fix some restores memory, but like now everything works as expected. Although there were problems with the military missions and the administrator of the game because of this holiday was very "cheerful"
Brian: How did you acquire the actual client and server software to make this happen?
JA: Get the game client was never a problem, he was always available for download. While with him, too, had done a good job, he began to work as it should. But with the server, as I have said I do web part, and I believe that some questions are better not to ask. Maybe he bought those to whom it belonged, may have been obtained by reverse engineering the client can find on zheskom drive ejected server may just visited the well of forever I think it will forever remain a mystery to all, and I do not see anything wrong with that.
Brian: How many players can the current servers handle? I've seen well over 100 so far.
JA: I asked the admin game server it says that 5-7k to withstand. I hope someday I see so many people online.
Brian: What was needed to update the game to work with Windows 8?
JA: Generally we helped a man known by the nickname VBKesha and fixes for Win 8 are already in the download section.
Brian: Are you planning any updates to the game at all, and if so, what are some of them that you can share with us?
JA: Yes we have plans, but I did not disclose can basically they relate to the server side and a web interface. Also, the game event RP.
Brian: What are your thoughts on the current player owned station controversy?
JA: In a world always full of people who think they know what's best. I have been engaged in development programs, and more than once he heard about that as anyone should do. Any idea what she who came up with seems perfect. However, part time shows that it is not so. I've been playing Jumpgate and in my opinion it is ideal premeditated game, all the time, I did not find any similar game. It may seem simple, it may seem daunting, you kazhetsja comprehended it all but then you realize that know nothing. I want to express my gratitude to those who originally made the game, they managed to do that then nobody could even repeat, not to mention how to improve. Developers Jumpgate know in my opinion you are the best. As for the controversy, debaters should argue :D
Brian: Finally, is this a long term endeavor, and if so, how do you plan to keep it sustainable?
JA: We will do our best to server lasted as long as possible, and not just to exist but to please the players. Plans to disclose, I can not but they are at the moment and we are trying to shut the them to life.
PS. Sorry for my bad English, but while the other can not offer. I would also like extended his gratitude to you for the specified questions, we are very pleased that our idea was not in vain. Thank you.