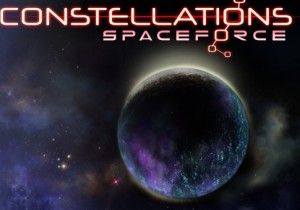 First, there was Space Force: Rogue Universe, a quirky open space combat/trading sim that I got some enjoyment out of, but didn't get a lot of time with. It was fun for a little while though. Then there was Space Force: Captains (warning, site appears to be in Russian), a strategy game that  got mediocre reviews, and while I own it, I've yet to play it.
Now comes word that a third game in the series is on its way. Entitled Space Force: Constellations, the game's website describes the game as:
An action-packed strategy game of galactic conquest! Welcome to a new experience in gameplay and battle your way through a series of devastating space feuds, for supremacy across the universe. Unleash your firepower and launch an arsenal of special attacks to destroy the enemy.
While some of the features include:
Simple and addictive game play: explore, discover, build a fleet, conquer.
Turn based fleet combat.
Galaxy Map helps you navigate your fleet through many constellations.
Stunning universe dominated by four civilizations.
Beyond that, we don't know a heckuva lot right now, but I'll bring you more as I get it. It certainly looks pretty cool. :)