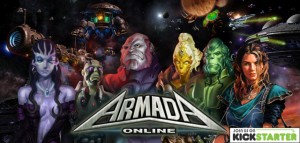 Now y'all should know about my insane love for Armada on the Dreamcast, as it's truly a remarkable space-based action RPG that I still play to this day. Several years ago, the folks behind Armada launched the PC-based follow-up, Armada Online, and I jumped in to play as soon as I could. At the time, however, it felt very, very unfinished, so I decided to take a break from it and come back later when more stuff had been added. That really didn't happen though, as many games took over my attention, and whenever I'd recall the game and visit the site, it didn't really look recently updated, so I moved on.
Well, imagine my surprise when LiquidMantis mentioned on Gamers with Jobs that the folks behind AO have now launched a Kickstarter campaign! Even though I got in the beta years ago, I'll be kicking this some fundage to help 'em out, as I'm hoping AO captures the excitement and intensity of the original Armada. Head on over and check it out, and kick 'em something if you like what'cha see. Enjoy!
Edit: OMG. I didn't see this stretch goal:
$500k—We will release the original Armada (Dreamcast) into the public domain, and rewrite Armada 1 for PC as a free release (using art/animation/ships from AO).  We will try to release it for free on other platforms later, with 4 player coop support on one system.
OMG GET ON THIS PEOPLE. ARMADA IS AN AMAZING GAME! :)