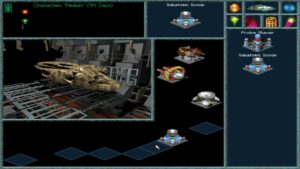 Welcome to this 125th episode of the Space Game Junkie Podcast! In this episode, Nate from Explorminate joins Jim and I to talk about a game very near and dear to our hearts (though admittedly his more than mine), 1995's Ascendancy from The Logic Factory. This is a really special 4X game that has truly alien races (over twenty of them), turn-based gameplay that feels real-time, excellent pacing, charming graphics, fun gameplay and some of the best music you'll hear in all of space gaming. We talk about the game, its history, what might've happened to the vanished iOS port and more. It's a fun time, so thank you for listening and/or watching!
Podcast: Play in new window | Download (Duration: 2:16:15 — 32.5MB)
Subscribe: Apple Podcasts | Google Podcasts | Spotify | Amazon Music | Android | Stitcher | RSS | More
Join us next week wherein we'll talk to the developer of the Starflight-inspired Project Daedalus – The Long Journey Home! Talk to y'all then!