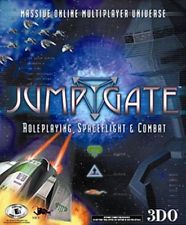 So I've been talking a loooot about Jumpgate around here, and I'm just warning y'all know folks, it's gonna keep on happening. Why? Because the game is GORRAM SHINY that's why, and I'm super excited that it's risen from the dead like the Phoenix from the ashes.  ;) For this week's podcast, instead of just talking to Jim about Jumpgate — as he's new to the game — I brought on a bunch of veterans to talk about the old days, the game's return, and to hopefully convince y'all to come and join us in this amazing playground.
Joining Jim (aszurom) and I (Veloxi) are Chris (Teeleton), Mark (Ambrosius), Matthew (Sephiroth), Oleg (Zver), Peter (Elder23) and Shonda (Regan), and those links in the parentheses link to each person's game profile, so you can see if we're logged in and ask for help if you're a new pilot. ;) You might want to after listening to us rave about the game so much. ;)
Podcast: Play in new window | Download (Duration: 1:37:21 — 28.1MB)
Subscribe: Apple Podcasts | Google Podcasts | Spotify | Amazon Music | Android | RSS | More
In the show notes are helpful links you could use to get started. I hope you enjoy the podcast, and hope to see you in the game. :) If you do join, be sure to say hi and let us know in the comments what your pilot handle is. :)
Episode #46 Show Notes
Jumpgate – Register your account and download the game from here.
Interactive Universe Map – Use this to see where the hell we were talking about on the show.
Joystick Required

– The game's unofficial English community full of helpful folks and resources.