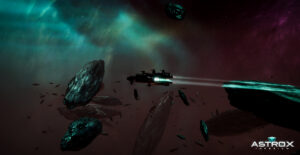 Welcome to this latest episode of the Space Game Junkie Podcast y'all! This week, Jim, Hunter, Spaz and I sit down with the Masulas (Jace, Jeremy and Jeana) to talk about their upcoming sequel to the much beloved original game, Astrox: Hostile Space Excavation, which is entitled Astrox Imperium. We had Jace on a while back, so it was nice to have him on again, and boy, did we learn a LOT about this game. So much, in fact, that this has moved up my list of most anticipated titles of the coming year. This game sounds like it'll have EVERYTHING one might want in an open space game, from meaningful exploration to varied factions to role-playing elements and MORE. It really sounds amazing, and we can't wait to play it.
Podcast: Play in new window | Download (Duration: 1:48:43 — 46.2MB)
Subscribe: Apple Podcasts | Google Podcasts | Spotify | Amazon Music | Android | Stitcher | RSS | More
Next week on the show, we're taking a break from guests for the rest of the year — due to the crazy holiday season — to have some topics, the first of which will be gaming discoverability! As always, you can drop a comment below, email us at hail@spacegamejunkie.com or hit us up on the forums.
Contest
Jace has provided us with eleven clips from space movies starting in the late 1970s! If you can guess all eleven of them correctly, you'll win a key to Astrox Imperium! Here we go!
Clip 1:
Clip 2:
Clip 3:
Clip 4:
Clip 5:
Clip 6:
Clip 7:
Clip 8:
Clip 9:
Clip 10:
Clip 11:
Email Jace your answers before the end of the day, one week from today (12/7/17) to enter! Good luck y'all!
Show Notes
Games Mentioned
EVE Online
Elite Dangerous
Fallout 4
ARK Survival Evolved
Drox Operative
Diablo III
Starflight
No Man's Sky
Battletech
Deep Rock Galactic