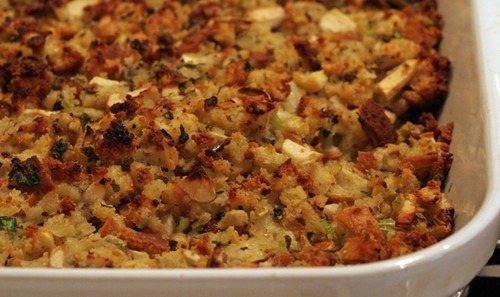 I admit to cheating a bit for this week's discussion topic, which is thankfulness. Thanksgiving is coming up here in the states, and regardless of the dubious nature of the holiday's origins, I always find myself thinking of what and whom I should be thankful for.
This has been a weird year for me. Last night, while at a friend's birthday party, said friend's mom asked me if I'd suffered a loss. I first told her about my cat (which she knew about) and then my job (which she didn't), and she said "Wow, that's a lot of loss." and asked me how I was getting through it.
I know I've lost a lot this year, but I thought I was keeping it close to the chest. Apparently not. I bring this up because in SPITE of all of this loss — and I have been wallowing in it a bit, I admit — her asking me these questions made me realize I also had a lot, a LOT, to be thankful for. This includes:
Non-Gaming Things and People I'm Thankful For
Nicole, My Wife – This year would've been immensely more difficult if I didn't have the best partner a guy could ask for. Supportive, empathetic and willing to try new things — like Red Dwarf — Nicole has been my anchor.
Nicole's Family – For years, I saw "family" as a four-letter word. Something toxic to be avoided at all costs. Then I met Nicole's family and it changed my entire outlook on the subject.
My Surrogate "Family" of Friends – I have a lot of wonderful and amazing friends in my life, some who've been there during my darkest days. Without them, I'd not be the same person I am today.
My Cats – Surely this goes without saying, but a decade ago I didn't even have cats, now I can't imagine living without them.
You Guys – Whether through Patreon or just hanging out in a stream, you guys have been so wonderfully patient and supportive as I go through this new journey of full-time streaming/
Gaming Things I'm Thankful For
My PC – Spent five grand on this thing a year ago, now it's my lifeline to a new business venture. May it last for several more years and continue to kick ass for all of them.
Ebay – Not all games are as of yet available digitally, so thank goodness for Ebay, where over the years I've been able to acquire those gems that might never see Steam or GOG.
Games and Those Who Make Them – 2019 was a deluge of gaming, but GOOD gaming. We really live in another golden age of gaming right now, with an amazing amount of affordable variety in not only game but platform.
Now it's your turn. I'd love to read about what you're thankful for as we wrap up this crazy year that is 2019. Thanks for reading!