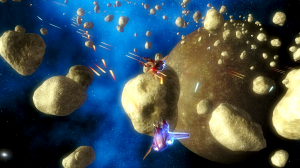 I got a lovely email in my inbox the other day from Andreas Heldt, CEO of Z-Software, asking me if I'd like more information on their upcoming PC space game, Solar Struggle. Since I'd never heard of it before — apparently it was an Xbox Live Arcade game before this — I totally wanted to hear more. Here's the blurb I was sent:
Today I would like to announce the upcoming release of Solar Struggle for the PC platform. From the 29th of March 2012 on, the game will be available on the LittleIndie platform for € 6.95. Update: At the moment there is a pre order discount of 25%.
The game has 11 missions and a skirmish mode as well, and the player can fly nine different ships. You can read more about the game on the official website linked above, or check out a trailer after the cut. I'll bring you my thoughts shortly after release. Thanks for reading!