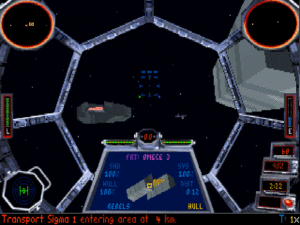 Edit: OMG guys, I think I found the solution! Thanks to Armando over at Quarter to three for suggesting Open Broadcaster Software! I just ran a bunch of test videos and it caught TIE Fighter and my mic's audio without any slowdown! YAY! I'll be giving it a full test tomorrow! Onward with videos!
Hey y'all, I was just asked this in a comment, but I thought I'd post a general update too. At the end of my last Let's Play video, I mentioned that the next game I plan to tackle for a series of Let's Play videos was Star Wars: TIE Fighter. This is one of my favorite games ever, and it was honestly suggested more than once that I make a video series out of playing it. As soon as I was done the last video, I began to test out the DOS Collector's Edition with FRAPS, the program I use to capture nearly all of my screenshots and video.
Well, imagine my dismay when I saw that activating the recording functionality of FRAPS slowed the game down to a crawl. This happened in both 320 and 640 resolution, after testing several different DOSBox variables and so on. It's honestly quite frustrating. The author of FRAPS has been damned helpful over email, but so far the problem still hasn't been solved, so I might have to use DOSBox's native video capture capabilities and forgo any commentary. Would you guys be okay with that?
Now, y'all might be asking why I'm using the DOS version and not the later-released Win95 version. It's simple really: I love iMuse. I felt that the redbook audio in the Win95 version of the game kinda ruined the immersion present in the DOS version thanks to the reactive nature of the iMuse music system, and I wanted to preserve that. :)
So in conclusion, unless I find a way to record smooth video of the game in action along with my own voice, the videos might just be of the game's audio. If y'all have any suggestions as to how to make this work, I'd be happy to hear 'em, but I wanted to let y'all know what was going on with these vids regardless. Thanks for visiting!