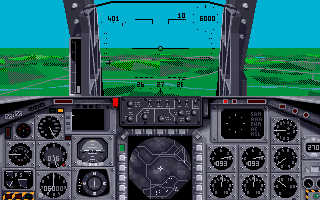 Hey friends, how are you? Been a while since I updated this thing with anything other than a podcast, I know, but I wanted to chime in about a change of direction I'm taking my weekly streams for the next several months. Now, typically, I stream Star Fleet II on Mondays, Yakuza on Fridays, and random games in-between. That last part is going to change for the next several months. While Monday will remain Star Fleet II and Friday will remain Yakuza-focused days, Tuesday through Thursday will now be focusing on old flight sims, with one sim being covered per week.
I admit I was inspired by the recent release of Tiny Combat Arena to revisit this wonderful area of flight sim gaming. ;)
So if you're curious, as I write this the schedule is as follows:
4/5-7 – Megafortress
4/12-14 – Air Power: Battle for the Skies
4/19-21 – Secret Weapons of the Luftwaffe
4/26-28 – Super VGA Harrier
5/3-5 – Tornado
5/10-12 – Gunship 2000
5/17-19 – SU-27/Fleet Defender
5/31 – 6/2 – Aces over The Pacific
6/7-9 – Aces over Europe
6/14-16 – 1942: Pacific Air War
6/21-23 – F-19 Stealth Fighter
6/28-30 – TFX
7/5-7 – LHX Attack Chopper
7/12-14 – Falcon Gold
7/19-21 – Apache Longbow
7/26-28 – Flight of the Intruder
8/9-11 – A-10 Cuba!
8/16-18 – Stunt Island
8/23-25 – Navy Strike
8/30-9/1 – B-17 Flying Fortress
9/6-8 – Hind
9/13-15 – EF2000
Now I might add more to this list as the year goes on, but truthfully I think this'll be a nice break for me. As much as I love newer games, when one feels inspired, one should follow that inspiration. :) Please let me know if you have any questions, and I look forward to taking you back to this wonderful era of flight simming. See you on the streams!!