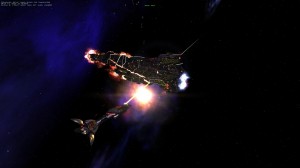 Welcome back to Freespace 2 my friends! It's been a while — because of the move and everything surrounding it — but it feels so, so good to return to this game. Today you get two missions!
Act II – Mission 5: The Sicilian Defense
Act II – Mission 6: Endgame
In which I fight the remaining forces of the Neo-Terran Front and bring them to their knees! These two missions are very intense, but awesome, and in the midst of the chaos I recall that I need to slow my movements on the joystick, resulting in higher accuracy and more kills. Yay! Overall, a couple of fun missions that lead me to working directly with Vesudans! Fun times!