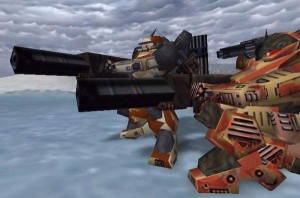 The other day, I came across a video game entitled BIONITE: Origins, which is an homage and a spiritual successor to the fantastic RTS/FPS hybrid Battlezone from the late 1990's. I thought back to games like Battlezone  and my favorite in the genre, Uprising: Join or Die, and started thinking…what other types of games do my readers enjoy? Now, while of course space games are my first true and still biggest gaming love, there are other genres that I just ADORE. These include:
Mecha Games – Heavy Gear 2 being my favorite sim-type game, while MissionForce: Cyberstorm is my favorite strategy game with giant robots.
Flight Simulators – Favorite jet sim is EF2000, favorite prop sim is 1942: Pacific Air War.
Violent or Crazy Driving Games – All-time favorites are Carmageddon and Interstate '76, as well as the aforementioned Driver: San Francisco.
Open-World Games – I looove games like Infamous, Kingdoms of Amalur: Reckoning and so on.
So yeah, besides my beloved spacey games, those are the other types of games I'm really into. What about you guys? :) I can't wait to read your choices. :)