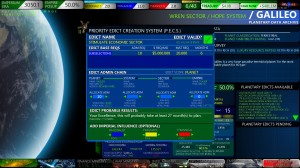 Hello my friends, and welcome to this episode of the Space Game Junkie Podcast! In this episode, Jim and I sit down with Steve Hawkins, developer of the exciting looking "5X" space strategy game, Imperia. In Imperia, you live out the life of a newly-crowned emperor with psychic powers who inherits a crumbling empire, and must do what you can to keep it going. This is the closest I've seen to "Crusader Kings in Space" since Star Wars: Rebellion, and it looks like it's gonna be awesome! You can also play it for free if you go to the game's home page. Steve is a very passionate developer, and it results in a fun discussion about the game and his philosophies behind it.
Podcast: Play in new window | Download (Duration: 1:28:35 — 46.0MB)
Subscribe: Apple Podcasts | Google Podcasts | Spotify | Amazon Music | Android | Stitcher | RSS | More
Now Steve was specifically requested by one of our readers, I think his name is Ben? Maybe? ;) If you have someone you'd like to hear on the podcast, or would like us to discuss a specific game or topic, don't forget you can hit us up at hail@spacegamejunkie.com. :) Thanks for listening/watching, and enjoy!